Crude prices slumped to a fresh six-month low on Thursday amid heightened recession fears.
Brent and WTI continued to slide yesterday, with the dip pinned on the Bank of England raising interest rates and forecasting that the UK will fall into recession during Q4'22.
Brent and WTI fell by over 2%, with the former settling at USD 94.12/barrel and the US crude benchmark closing at USD 88.54/barrel.
As for gas, prices in Europe ticked higher after Gazprom reiterated that it cannot take a gas turbine for the Nord Stream 1 pipeline due to Western sanctions imposed on Russia. The turbine for the Portovaya compressor station is currently in Germany after undergoing maintenance in Canada. German chancellor Olaf Scholz visited the stranded turbine earlier this week and reiterated that sanctions are not preventing the delivery of the turbine to Russia.
In addition to blaming sanctions for holding up the delivery of the turbine, Gazprom hinted that Nord Stream 1 flows could fall further.
TTF closed 0.8% higher at the equivalent of USD 59.69/MMBtu, with NBP up 2.5% at USD 46.03/MMBtu.
US natural gas benchmark Henry Hub dipped on Thursday, closing 1.7% lower at USD 8.12/MMBtu.
Asian LNG marker JKM fell for the first time in five days, settling 2.9% lower at USD 44.61/MMBtu.
Front-month futures and indexes at last close with day-on-day changes (click to enlarge):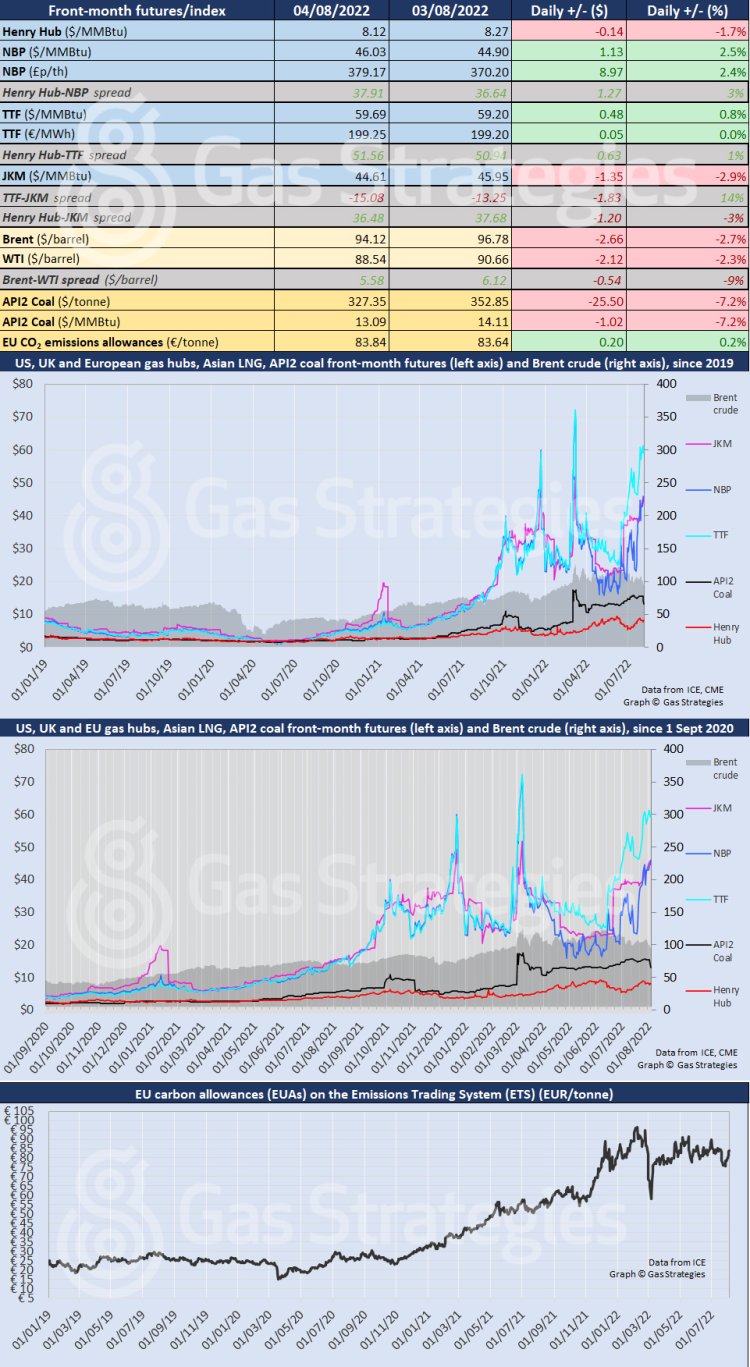 [1]
Time references based on London GMT. Brent, WTI, NBP, TTF and EU CO2 data from ICE. Henry Hub, JKM and API2 data from CME. Prices in USD/MMBtu based on exchange rates at last market close. All monetary values rounded to nearest whole cent/penny. Text and graphic copyright © Gas Strategies, all rights.