[1]
European natural gas prices traded down on Wednesday following last week's gains led by nuclear woes in France, with the fundamentals now back to normal.
The UK's NBP saw a 4.7% decline to USD 12.79/MMBtu, while the Dutch TTF marker slid 4.6% to USD 13.24/MMBtu.
Energi Danmark said in its morning report: "Following last week's sudden price jump due to the nuclear scare in France, the European gas market has slowly retreated back to the previous price levels. Yesterday, the market edged further down, and there are no new fundamentals, the bearish sentiment remains intact due to mild weather forecasts and high storage levels across the continent."
Gas stocks in Europe continue lingering at abundant levels of being 56.4% full, according to GIE.
In the US, Henry Hub saw a second consecutive decline, settling 5.2% lower at USD 2.44/MMBtu on expectations of another soft storage pull to be reported in a weekly government report.
Meanwhile, crude continued losing ground on Wednesday on concerns that a crisis of confidence in the banking sector could trigger a recession and cut demand, Reuters reported.
Brent plunged 4.9% to USD 73.69/barrel, and WTI dropped by 5.2% to USD 67.61/barrel, with both at their lowest since December 2021.
Front-month futures and indexes at last close with day-on-day changes (click to enlarge):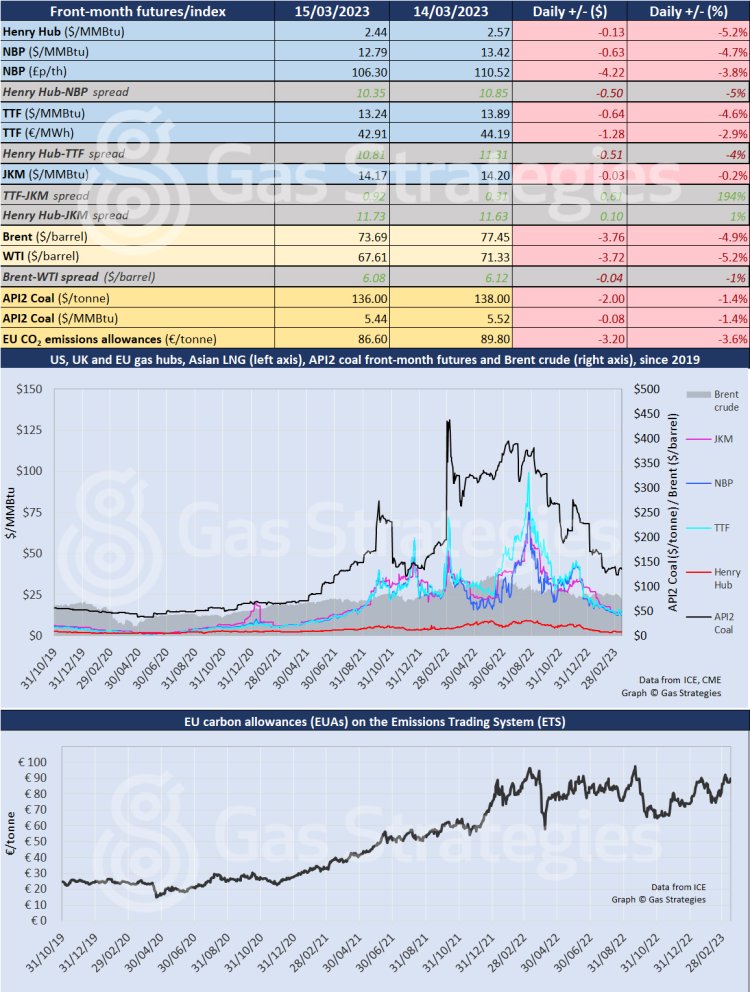 [2] Time references based on London GMT. Brent, WTI, NBP, TTF and EU CO2 data from ICE. Henry Hub, JKM and API2 data from CME. Prices in USD/MMBtu based on exchange rates at last market close. All monetary values rounded to nearest whole cent/penny. Text and graphic copyright © Gas Strategies, all rights.